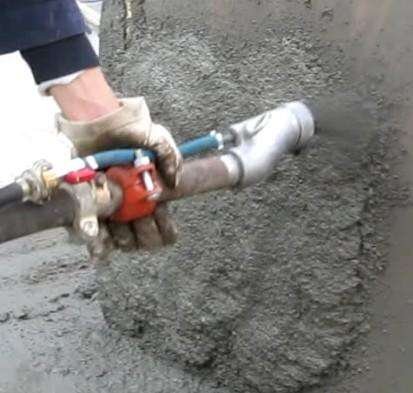 Special mortar is a kind of mortar, which is mainly suitable for thermal insulation, sound absorption, waterproof, corrosion resistance, radiation protection, decoration and bonding, and other special requirements.
Refractory insulation mortar is applicable for fireproof layer and fireproof structural heat bridge insulation layer of organic insulation material layer, in order to improve the thermal insulation and insulation performance and fire resistance. It can also be used for the interior insulation and external heat preservation of the building with high fire protection requirements, as well as the fire insulation and heat insulation project for the external and outer thermal insulation of the exterior wall. It can also be used in the heat insulation layer of floor radiant heating and the insulation layer of the floor.
Silica fume consists primarily of amorphous (non-crystalline) silicon dioxide (SiO2). The individual particles are extremely small, approximately 1/100th the size of an average cement particle. Because of its fine particles, large surface area, and the high SiO2 content, silica fume is a very reactive pozzolan when used in concrete.
Since the 1980s, silica fume has been used extensively around the world to produce high performance concrete. Today, more than 10 million cubic metres of concrete containing silica fume is placed each year.
High quality silica fume is mainly used as high performance refractory castable, preform, ladle material, breathable brick, self flow refractory castable and dry wet jet material. In the field of high temperature ceramics, such as silicon carbide products with high temperature oxide, lightweight calcium silicate insulation material, using corundum mullite kiln electromagnetic, high-temperature wear-resistant materials and products, corundum and ceramic products, dragon products, microsilica has high mobility, low storage capacity, high density and high strength etc.
For refractory material application:
Mandatory chemical and physical requirements
Grade
SF 940
SF 960
SiO2 (%)
92 – 94
92 – 96
C (%)
< 2.0
< 1.0
Fe2O3 (%)
< 0.6
< 0.6
Al2O3 (%)
< 0.6
< 0.6
CaO (%)
< 0.8
< 0.6
Na2O+K2O (%)
< 0.6
< 0.5
Moisture (%)
< 2.0
< 2.0
Loss on Ignition @ 950°C (LOI) (%)
< 3.0
< 2.0
Coarse Particles > 45μm(%)
< 5.0
< 3.0
Bulk Density (kg/m3)-undensified
300 – 450
300 – 450
Fluidity (mm)
Good(>120mm)
Execllent(>150mm)
More silica fume products: https://microsilica-fume.com/shop