Silica fume powder is black or gray in color, and is available in several product forms and packaging options. Our Undensified Silica Fume products Bulk density: 320-360kg/m³
Silica Fume Application:
Concrete, Refractory, High Performance Concrete, Oil and Gas Industry, Ceramics, Concrete Roofing, Wall boards, Cementation Repair Products, Concrete Tile & Panels, FCB, Shotcrete, Polymers & Elastomers and (SCC) Self-Compacting Concrete.
ADVANTAGES
. Lowers concrete permeability.
. Significantly increases concrete durability.
. Increases ultimate strength gain.
. Beneficial in all types of high strength concrete applications.
. Improves bond strength to steel.
. Significantly reduces alkali-silica reactivity.
. Provides excellent resistance to sulfate or seawater attack.
. Reduces steel corrosion.
. Improves freeze/thaw durability of concrete.
85% Silica Fume Specifications:
Silica fume is produced in conformance with the ASTM specifications. The quality is controlled and monitored throughout the entire production process to ensure that it meets or exceeds specification requirements.
The above typical value is just for reference.
Packaging & Delivery:
10kg soluble paper bags x 84 on the pallets.
20kg soluble paper bags x 42 on the pallets.
950kg plastic woven bags x 2 on the pallets(with or without bottom output )
1000kg plastic woven bags x 2 on the pallets(with or without bottom output )
500kg plastic woven bags x 2 on the pallets (with or without bottom output )
We can also produce according to your requirement.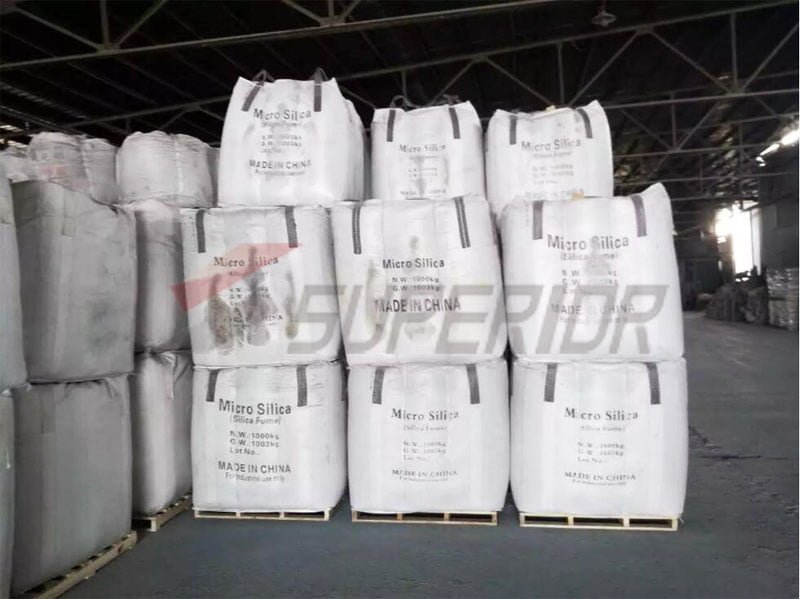 Storage:
Silica fume should be kept dry, out of weather and the elements.
Our Plant: