Microsilica performance indicators:
Color: gray
SiO2 content: > 85%
Filling density: 220 g/L
PH value: 8.98
105 ℃ Reduction: 0.67%
Ignition loss: 3.4%
Particle size and distribution of microsilica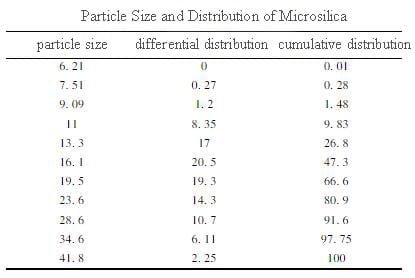 Microsilica in Room Temperature Vulcanized Silicone Rubber:
(1) When some or all of the micro silica powder substitutes for calcium carbonate as filler, the sagging degree of the sealant is not affected; as the proportion of the microsilica powder increases, the extrusion rate rises rapidly. The influence of drooping and extrudability on the surface shows that the micro-silicon powder has good thixotropy in the sealant;
(2) With increasing the amount of microsilica, the tensile bond strength showed an upward trend. When microsilica fume is used as filler instead of calcium carbonate, the tensile strength increased by 24.4%, indicating that the micro-silica fume reinforcing effect in the sealant is better than calcium carbonate;
(3) The elongation at break tends to decrease with increasing the amount of microsilica powder added. It may be due to the wide particle size distribution of the microsilica fume, contain the large particles. If the microsilica can be classified, it is believed that the problem of low elongation at break can be solved.
(4) The use of microsilica as filler does not lead to decrease in the adhesive properties of the sealant.